It is the summer and weather is drier during this period so a cheap and fun way to entertain children is giving them some chalk to use on pavements.
1. Draw around your body with chalk.

2. Play naughts and crosses.
3. Draw hopscotch and then jump along with it.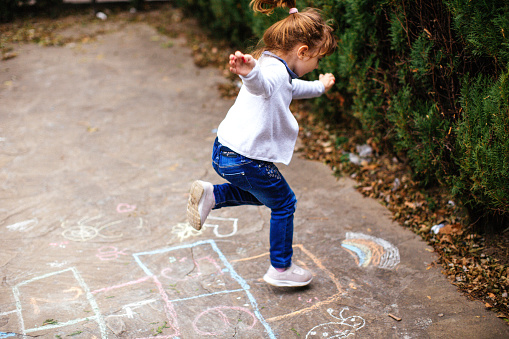 4. Draw a wibbly-wobbly line and walk along with it the best you can.
5. Using chalks and making mosaics is a fun way to be creative.
6. Can always sort out a maths problem out.
7. A great way to teach children the alphabet is by writing it out on the pavement.
9. Something a bit different is use chalk and make firewalks art with it.


10.
Have a game of hangman.
11. Draw around objects such as bowls and plates to make art with it.
12. Do a piece of art using chalks and one shape, e.g circles and everything that is drawn have to be a circle.
13. Create a scene such as on the beach, the weather or spider anything that inspires you can create with some chalk.


14. Make a map of a city - different type of size buildings and roads. What really can be effective is to use toy cars or figurines to make the picture come alive through play.
15. If you are near pavement slabs you can brighten them up with different colours to create fun designs on the pavcing stone.
Do you like chalks? Have you any ideas on how to incorporate chalks for fun with kids that I have not mentioned above? Love to hear your thoughts in the comment section down below.