Remember the 90s... it feels like ages ago! They were ace, didn't really think much at the time but hindsight is a valuable thing. So, here are some of the things that rocked about the 90s and not just having no responsibility for small humans and doing whatever I felt like.
Daria was my icon during the 90s. Daria was a cartoon about an American school girl and the focus was on her life at school. She is not popular but different shall we say, she was crippled with low self-esteem and a popular sister. I loved Daria not just for sarcasm which to be fair was tremendously glorious.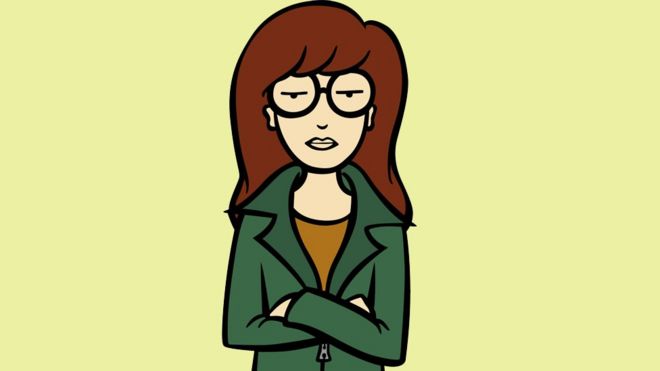 MTV channel was the bomb, it was incredible unlike now where it is crap! Of course, there were some great shows like my darling Daria, who could forget Bevis and Butthead and the amazing and slightly addictive deathmatch. That at the time was what I was hooked on watching, I am not surprised I didn't have square eyes but hey ho, I am still standing!
Of course, the 90s would not be the 90s if you haven't played the wonderful Sonic the Hedgehog on the old Sega Mega drive. I miss the carefree days when all you needed to worry about was when it was your turn to have a go and collect the golden coins.
On telly when I was in the 90s there was a brilliant game show called Supermarket sweep and it involved Dale Winton as the host. The contestants had to answer questions to earn time to dash around the supermarket. Then the contestants had to run around and get as many high-value products into their shopping trolley within the time frame given wins.
I am now officially old because I can say this, if you are a youngster then you may not have heard of a thing called a cassette tape. A cassette tape according to Dictionary.com
Also

called

cassette

tape

. a

compact

case

containing

a

length

of

magnetic

tape

that

runs

between

two

small

reels:

used

for

recording

or

playback

of

audio

or

video

in a

tape

recorder,

cassette

deck,

video

camera,

or

VCR,

and

for

storage

of

data

by

some

small

computer

systems.
You can get music already on the tape but you can also record it. In the 90s I spent a large portion of a Sunday afternoon recording the certain songs I liked whilst listening to Radio 1 top 40. It turned into a mixtape of my favorite hits. I put so much work into making them start and stop within the time, such beautiful concentration was made.
Reflecting back from the 90s I vividly remember glaring into a Where's Walley book and trying to find this random man dressed in a red and white striped hat and t-shirt lost in a picture full of themes such as on the beach, it provided hours of entertainment for me.
When I was a youth in the 90s the best place to get clobber was from a store called Tammy Girl with such items as a skirt over trousers or peddle pushers.
After you had been shopping at Tammy Girl the place to hit was the pick n mix in Woolworths where there was so much choice it took a good half an hour to make your selections.
Flip out pencil case was my whole life when I was a child at school. It was amazing and the best piece of stationary that I have ever and I mean EVER owned. If you have not been fortunate to experience a flip out pencil case then you are missing out.